Catherine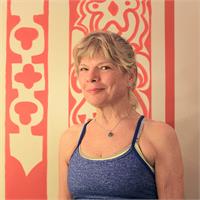 Bikram Yoga has given me patience and options to deal with stress. I know I can use my breath, I can take a break from situations. I can think about things differently. I can concentrate and meditate. I can keep my body and mind strong and healthy by practicing on a regular basis. Getting to know myself and learn about the yoga and share with others.
Students are doing good things for themselves and their life by practicing. They can change their lives and be in control and be happy and strong. I want them to feel they have had a good workout and a new feeling for things. A clear head with new focus.
Certified at Bikram Yoga Teacher Training Spring 2014
Catherine instructs the following:
The classic, beginner friendly Hot 26+2 class is a series of 26 postures and 2 breathing exercises.

This class is the foundation for all hot yoga students, regardless of experience, ability or age. Whether you are working through injuries, health conditions, or want to boost your athletic performance, this class is for you!

Dress Code: Shorts highly recommended. Long pants and long sleeves discouraged in this class. If you can visually connect with your sustained muscle contractions in the mirror, your practice will improve faster.


Is this your first visit to HYP? Please go online to www.hotyogaptx.com and register for your class or arrive 15-20 minutes early and register at the front desk.